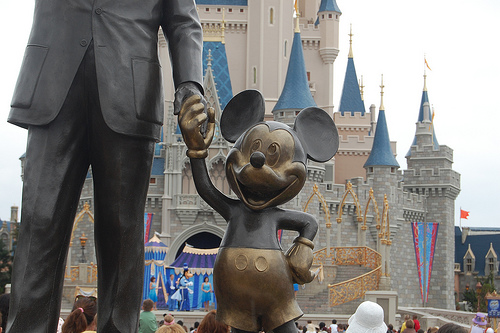 Mickey Mouse was a comeback of Disney after Universal took Oswald.When Disney got Oswald back,they made a video game called Epic Mickey.Along with Oswald,Mickey was in this game.(Hence the name Epic Mickey.)Mickey and Oswald kind of fought with each other in the game.
Films and TV
Edit
Walt wanted the name to be Mortimer,but his wife didn't like it,so they changed it to Mickey.Mickey's first appearence was on the short by Walt Disney and Ub Iwerks:Plane Crazy.Little ones may reconize Mickey from the Disney Junior show Mickey Mouse ClubHouse,or from the famous Theme Parks and Cruises by Disney.Mickey also has made appearences on House of Mouse and Epic Mickey.He was a musketeer in the Disney version of the famous tale,the 3 musketeers.
Friends and FamilyEdit
Mickey has many friends.Some include Oswald,Minnie Mouse(his girlfriend),Pluto, his dog, and Donald Duck.He has a sis named Amelia and two nephews:Morty and Ferdie.He also has a cousin named Madeline.His girlfriend,Minnie,has two nieces named Millie and Melody and their mother,Mandie,is Minnie's sis.Minnie's father is named Marcus.Her Grandparents are Matilda and Marshall.
I GOT THIS INFO FROM WIKIPEDIA.
Edit